Discover the new electric scooter which, thanks to its modern design, is accompanied by high quality components to guarantee not only pleasure but also safety.
much more robust and high than the Citycoco, fast charging 4 hours, 60 km for 20 cents € ! aluminium wheels, disc brakes, improved damping, LED display and lighting !

2-year warranty After-sales service for all spare parts in stock!!!!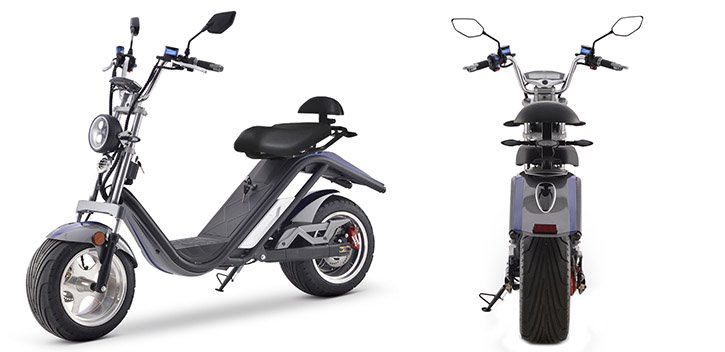 It includes a removable 60V/20Ah factory integrated Lithium battery that will provide you with enough energy to achieve up to 65 Kilometers of autonomy.
Equipped with LED front lighting that offers a wide viewing angle allowing perfect driving day and night without danger.
In addition, the LED spotlight is equipped with other components that allow safe driving, such as front and rear disc brakes, front and rear shock absorbers and a horn.
One of the great advantages of its modern design is its double seat, which allows you to carry a second passenger while driving. In addition, its latest generation digital marker shows you at all times the speedometer, mileage, battery level and voltage.
One of the great advantages of its modern design is its double seat, which allows you to carry a second passenger while driving. In addition, its latest generation digital marker shows you at all times the speedometer, mileage, battery level and voltage.

To drive this vehicle, it is necessary to have an AM or B driver's license. It can be obtained from the age of 15 at the DGT......

This model approved as a moped includes front and rear turn signals, main and rear lights, brake lights, position lights, registration lights, horn, mirrors included. Unlike other non-registration models, this model also includes some important changes required by European regulations to classify it as a moped, as they are:

- Lithium battery of 60v and 20Ah with long battery life.

- Approved lighting system. Short and long, intermittent, position light, position light, position light, license plate light.

- Certified odometer.

- Rear mirrors.

- Chassis number engraved on the chassis.

- Stop switch on the side support ("goat's foot").

- Handlebar lock with key.

- Front and rear disc brakes.

- The maximum construction speed for an approved moped is 45 km/h.

*** WARNING:

Before use, read the complete user manual, safety warnings, maintenance, inspection, battery use and keep the accompanying manual for future reference. Respect the rules of the road.



Specifications :

- Model: ES8007

- Motor: 2000W

- Battery: 60V 20Ah

- Wing colour: Red, Blue, Hip-Hop and Orange

- Frame color/Shade: Black

- Maximum speed: 45 Km/h

- Battery life per charge: 65 Km

* All our Citycoco batteries can be recharged on the bike, as well as removed and charged separately.

Features :

- Front shock absorber

- Horn

- Dual rear shock absorber Pneumatic

- Front / rear disc brakes

- Front light (short and long) / Position light and rear brake light.

- Front and rear indicators

- Digital marker (odometer + battery level/voltage)

- 2 Start buttons

- Maximum load: 180Kg

- Scooter weight: 85Kg

- Dimensions: 170x37x37x74cm

- Charging time: 4-5 hours

**This product includes assembly tools